Skip to Content
Weddings in St. Kitts
Joyful Celebrations
Here, weddings can be anything—grand and ornate, intimate and secluded; maybe even a little bit of both. Colonial churches, sandy beaches, and historic ruins offer to host the day you've been dreaming of, exactly as you've dreamed it.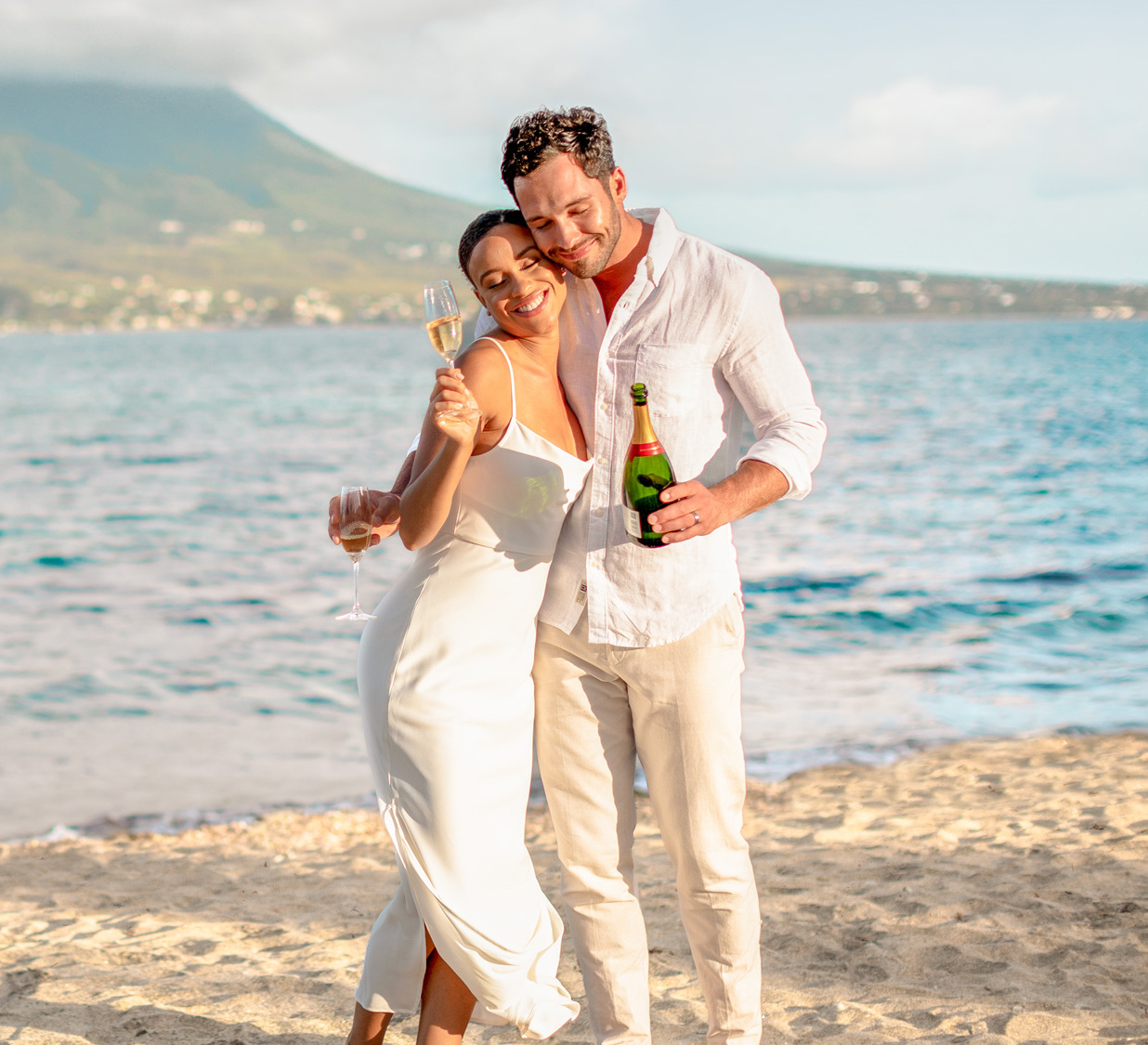 Soul-Stirring Settings
Beach Weddings
The rhythmic rush of the waves, the warm feel of sand underfoot, and a gentle sea breeze set a naturally romantic scene for your celebration.
Soul-Stirring Settings
Garden Weddings
Honor your love story with a picturesque setting in full bloom. The exotic flowers and lush palms of St. Kitts paint your special day in shades of emerald green and hibiscus pink.
Soul-Stirring Settings
Hotel Weddings
Invite everyone you love for a destination wedding with the works. Our world-class hotels and expert wedding planners will make every second of your special day—or week—a grand success.
Soul-Stirring Settings
Historic Weddings
Infuse your special day with Old World charm, generously provided by the historic ruins, grand estates, and age-old manors found throughout the island.
Soul-Stirring Settings
Church Weddings
Keep things traditional with a ceremony inside one of our grand, colonial-era churches.
Begin Your

wedding


Journey
Get Wedding Day Ready
LEGAL REQUIREMENTS TO GET MARRIED ON ST. KITTS
It's easy to exchange your vows in our tropical paradise. Red tape is kept to a minimum. No residency is required. Couples are only required to obtain a marriage license in St. Kitts and provide the following documents:
A valid passport or photo ID.
An original or certified copy of your birth certificates.
If you're divorced, a decree absolute (an original or certified copy showing court's stamp or seal).
If you're widowed, a copy of the death certificate of the deceased spouse .
If documents are not in English, they must be accompanied by a notarized translation.
CATHOLIC WEDDINGS
If a Catholic priest is to perform the ceremony, the couple must receive marriage counseling sessions from their parish priest and submit the required Catholic documents. A letter must come from the couple's resident priest verifying that they are unmarried and that they have received the necessary instructions. All Catholic weddings take place in the church.
OTHER RELIGIONS
If an Anglican or other minister of religion is to perform the ceremony, it is recommended to bring a letter from the couple's resident minister verifying that they are known and unmarried. Counseling sessions may be a requirement but can be done by couple's resident priest.
FEES
The license fee for getting married on St. Kitts is $200.00 (XCD).
The Justice of the Peace may also assess a fee.
WEDDING VENUES
Your ceremony can be held on the grounds of your hotel, in a church of almost any denomination, among historic ruins, in a rustic gazebo in a picturesque garden and, of course, on the beach.
6 a.m. – 6 p.m. for ceremonies presided over by a religious person.
8 a.m. – 6 p.m. if performed by a Magistrate.